Ana Paula Serro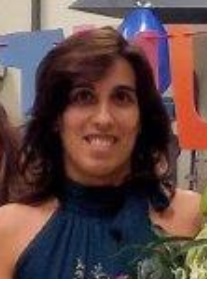 Researcher Degree in Chemical Engineering, Instituto Superior Técnico, 1994 PhD in Chemistry (Biomaterials), Instituto Superior Técnico, 2001 Telephone: 21 8419223, Ext: 3223 Email-adress: anapaula.serro@ist.utl.pt
Scientific affiliations
Professor at Instituto Superior de Ciências da Saúde Egas Moniz (1998-2008, Associated Professor since 2005): areas of Physical-Chemistry and Biophysics Assistant Researcher at CQE - Centro de Quimica Estrutural (CQE) - IST (since 2008)
Present research interests
Controlled drug release;
Hydrogels for ophthalmic applications;
Biomaterials characterization;
Biotribology;
Adsorption of biomolecules onto biomaterials;
Cell membrane models and their interaction with drugs;
Quartz crystal microbalance with dissipation.
Current research projects
Optimization of drug delivery from contact lenses", Luso-German Integrated Actions 2012 CRUP/DAAD, ref A29-12, in collaboration with the Natural and Medical Sciences Institute at the University of Tuebingen (NMI) (2012 -2013).
SurfLenses - Surface modifications to control drug release from therapeutic ophthalmic lenses", MERA-NET project. Consortium involving Instituto Superior Técnico (Coordinator) (Lisbon, Portugal), University of Coimbra (Coimbra, Portugal), University of Iceland (Reykjavik, Iceland), Physiol (Liège, Belgium), Altakitin (Aveiro, Portugal), Instituto Oftolmologico Fernandes Vega (Oviedo, Spain), Instituto Oftalmológico Gama Pinto (Lisbon, Portugal) (2013-2016).
Students (in the last 5 years)
PhD Students
Patrizia Paradiso, "Biotribological effects on the drug delivery performance of soft contact lens materials" (PhD in Materials Engeneering, Instituto Superior Técnico, 2011- (ongoing) co-supervisors: R. Colaço (IST), B. Saramago (IST)).
Raquel Galante, "Sterilization of hydrogels for biomedical applications" (PhD in Biomedical Engeneering, Instituto Superior Técnico, in co-supervision with the Faculty of Pharmacy of University of São Paulo - Brasil, co-supervisor at IST: R. Colaço, Supervisors at USP: Terezinha Pinto and Nádia Bou Chacra).
MSc Students
Montsant Gispert, "Friction and wear mechanisms in hip prosthesis: comparison of joint materials pairs behaviour (IST, October 2007).
Carlos Completo, "Adsorption of bovine albumin and hyaluronic acid on titanium ceramics: QCM-D and AFM analysis" (IST, October 2008)
Ana Carapeto, "Study of two new DLC's for coating of joint prosthesis: the effect of albumin on their tribological behaviour" (IST/FMUL, November 2009).
José Gabriel Paiva, "Interaction of biomembrane model systems with anaesthetics" (IST, December 2010).
Inês Nogueira, "Comparative study of the effect of using ethylenediaminetetraacetic e peracetic acids in human dentin" (ISCSEM/IST, December 2010).
João Tiago, "Development of drug delivery systems from dental obturation materials" (IST/FMUL, June 2011).
Cátia Bandeiras, "Interaction between anesthetics and lipid rafts" (IST/FMUL, November 2011).
Raquel Galante, "Influence of the tribological action on the release of levofloxacine from pHEMA hydrogels" (IST/FMUL, May 2012)
Mafalda Negrão, "Gentamicine delivery from calcium phosphate bone cements" (IST/FMUL, November 2012).
Diana Silva, "Nanotribological behaviour of pHEMA hydrogels in contact with simulated body fluids" (IST, June 2013).
Selected Publications
G. Gonçalves, M-T. Portolés, C. Ramírez-Santillán, M. Vallet-Regí, A.P. Serro, J. Grácio, P.A.A.P. Marques; Evaluation of the in vitro biocompatibility of PMMA/high-load HA/carbon nanostructures bone cement formulations; Journal of Materials Science: Materials in Medicine (2013), Published online in August 2013. (DOI 10.1007/s10856-013-5030-2).
Cunha, A.P. Serro, V. Oliveira, A. Almeida, R. Vilar, M-C. Durrieu; Wetting behaviour of femtosecond laser textured Ti-6Al-4V surfaces. Applied Surface Science 265 (2013) 688-696.
C. Bandeiras, A.P. Serro, K. Luzyanin, A. Fernandes, B. Saramago, Anesthetics interacting with lipid rafts. European Journal of Pharmaceutical Sciences 48 (2013) 153-165.
B. Nunes, S. Magalhães, N. Franco, E. Alves, A.P. Serro, R. Colaço; Wettability and nanotribological response of silicon surfaces functionalized by Ion implantation. Materials Science Forum 730-732 (2013) 257-262.
C.G. Figueiredo-Pina, A. Monteiro, M. Guedes, A. Maurício, A.P. Serro, A. Ramalho, C. Santos; Effect of feldspar porcelain coating upon the wear behavior of zirconia dental crowns; Wear 297 (2013) 872-877.
I. Gomes, M.J. Feio, N.C. Santos, P. Eaton, A.P.Serro, B. Saramago, E. Pereira, R. Franco; Controlled Adsorption of Cytochrome c to Nanostructured Gold Surfaces, Journal of Nanoparticle Research 14:1321 (2012) 1-12.
J.G. Paiva, P. Paradizo, A.P. Serro, A. Fernandes, B. Saramago; Interaction of local and general anaesthetics with liposomal membrane models: a QCM-D and DSC study. Colloids and Surfaces B: Biointerfaces 95 (2012) 65-74.
A.P. Serro, A. Carapeto, G. Paiva, J.P.S. Farinha, R. Colaço, B. Saramago; Formation of an intact liposome layer adsorbed on oxidized gold confirmed by three complementary techniques QCM-D, AFM and confocal fluorescence microscopy, Surface and Interface Analysis 44 (2012) 426–433.
M. Tariq, A.P. Serro, J.L. Mata, B. Saramago, J.M.S.S. Esperanca, J.N.C. Lopes, L.P.N. Rebelo, High-temperature surface tension and density measurements of 1-alkyl-3-methylimidazolium bistriflamide ionic liquids Fluid Phase Equilibria, 294 (1-2), 131-138 (2010).
A.P. Carapeto, A.P. Serro, B.M.F. Nunes, M.C.L. Martins, S. Todorovic, M. T. Duarte, V. André, R. Colaço, B. Saramago, Characterization of two DLC coatings for joint prosthesis: the role of albumin on the tribological behavior, Surface and Coatings Technology, 204 (2010) 3451?3458.
A. P. Serro, K. Degiampietro, R. Colaço, B. Saramago, Adsorption of albumin and sodium hyaluronate on UHMWPE: a QCM-D and AFM study, Colloids and Surfaces B: Biointerfaces 78 (2010) 1?7.
R. Colaço, A.P. Serro, B. Saramago, On the stability of nanobubbles trapped at a solid-liquid interface: a thermodynamical approach, Surface Science, 603 (18), 2870-2873, 2009.
A.P. Serro, C. Completo, R. Colaço, F. dos Santos, C. Lobato da Silva, J.M.S. Cabral, H. Araújo, E. Pires, B. Saramago, A comparative study of titanium nitrides, TiN, TiNbN and TiCN, as coatings for biomedical applications, Surface and Coatings Technology, 203 (24) 3701-3707, 2009.
R. Colaço, A. P. Serro, O. L. Eryilmaz and A. Erdemir, Micro-to-nano triboactivity of hydrogenated DLC films, J. Phys. D: Appl. Phys. 42, 085307, 2009.
A.P. Serro, A.C. Fernandes, B. Saramago, W. Norde, "Bovine Serum Albumin Adsorption on Titania Surfaces and its Relation to Wettability Aspects", Journal of Biomedical Materials Research 46 (1999) 376-381.
A.P. Serro, A.C. Fernandes, B. Saramago, "Calcium Phosphate Deposition on Titanium Surfaces in the Presence of Fibronectin", Journal of Biomedical Materials Research 49 (2000) 345-352.
A.P. Serro, A.C. Fernandes, B. Saramago, M.H.V. Fernandes, "In vitro Mineralization of a Glass-Ceramic of the MgO-3CaO.P2O5-SiO2 System: Wettability Studies", Journal of Biomedical Materials Research 61 (2002) 99-108.
P.A.A.P. Marques, A.P. Serro , B.J. Saramago, A.C. Fernandes, M.C.F. Magalhães, R.N. Correia, "Mineralization of two phosphate ceramics in HBSS: role of albumin", Biomaterials 24 (2003) 451-460.
P.A.A.P. Marques, A.P. Serro , B.J. Saramago, A.C. Fernandes, M.C.F. Magalhães, R.N. Correia, "Mineralisation of two calcium phosphate ceramics in biological model fluids", Journal of Materials Chemistry 13 (2003) 1484-1490.
A.P. Serro, B. Saramago, "Influence of sterilization on the mineralisation of titanium implants induced by incubation in various biological model fluids", Biomaterials 24 (2003) 4749-4760.
A.P. Serro, M. Bastos, J. Costa Pessoa, B. Saramago, "Bovine Serum Albumin conformational changes upon adsorption on titania and on hydroxyapatite and their relation with biomineralisation", Journal of Biomedical Materials Research 70A (2004) 420-427